The SLT 2022 will take place from June 21 to 22, 2022. The registration starts in January 2022!

SLT 2022 - Information for participants for the conference
Highlights and innovations in the field of industrial laser-based manufacturing will bring together experts and users at the 11th Stuttgart Laser Technology Forum (SLT) from 21 until 22 June 2022.
The SLT ist organized by the IFSW and takes place in conjunction with the International Trade Fair for Laser Material Processing (LASYS) at the Trade Fair Centre Stuttgart (Airport).
The Stuttgart Laser Technology Forum which takes place on a biennial cycle is aimed at knowledge transfer and is recognized as an essential international user forum of the laser branch. The presentations will be held in English and German, with simultaneous translation for the German and English talks.
The talks given by international experts from research and development provide a profound overview over the actual trends in laser technology. In particular, the SLT provids an insight in the corresponding fundamentals with respect to future applications. This is complemented by presentations from the industries which document the actual state of innovation transfer.
The relaxed time-table together with the agreeable venue provids the perfect frame for successful networking. An evening event following the first day provids more opportunities for exchange with a visit to the laboratory directly at the IFSW.
We look forward seeing you again at the SLT 2022!
Program committee
Prof. Dr. phil. nat. Thomas Graf (conference host)
Institut für Strahlwerkzeuge, University of Stuttgart

Dipl.-Ing. Klaus Löffler
TRUMPF Laser- und Systemtechnik GmbH

PD Dr. phil. nat. Rudolf Weber
Institut für Strahlwerkzeuge, University of Stuttgart

Dr. Marwan Abdou Ahmed
Institut für Strahlwerkzeuge, University of Stuttgart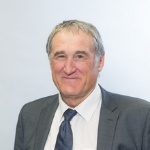 apl. Prof. Dr. phil. nat.
Rudolf Weber
Head of process development department
M.A.
Heidi-Maria Götz
Officer for public relations and marketing